Since Canada has legalized cannabis back on the 17th of October 2018 a lot has changed for us Canadians! We are now able to grow up to 4 plants per house hold and buy cannabis seeds legally in Canada. Many Canadians wish to grow their own medical cannabis for the simple fact it is a lot cheaper to grow your own and you know what exactly is going into it.
When growing your own cannabis it is important that you buy cannabis seeds that are high quality genetics. Keep in mind that it takes a few months to grow from seed until harvest time and you want to make sure you are growing something that will be worth using!
Buy Cannabis Seeds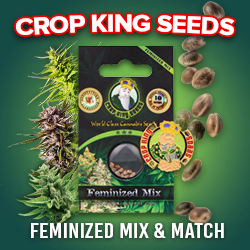 One of the best places to buy cannabis seeds from is Crop King Seeds they are a Canadian based company. After testing some of there seeds and genetics I can personally say they are worth ordering from and growing.
Since they are in Canada I always found shipping to be extremely fast compared to other websites based out of the USA or Europe.
Crop Kinds also carry auto seeds and photo period seeds so you can order both kinds and of any strain you can think of. Thanks to the massive selection they carry from there seed banks you can grow anything you ever wanted!
So if you are looking to buy cannabis seeds in Alberta, British Columbia, Manitoba, New Brunswick, Newfoundland and Labrador, Northwest Territories, Nova Scotia, Nunavut, Ontario, Prince Edward Island, Quebec, Saskatchewan, or the Yukon. Crop King Seeds are worth checking out.
If you are interested in looking into other seed suppliers check out my other list of best place to buy weed seeds online. That review covers other seed banks that I have ordered from in the past and have received my seeds. I have always had high germination rates with all seed company's that I have work with by using the wet paper towel method or rapid root cubes.
Please keep in mind each company has its own germination methods that they will recommend you follow.